Varicose Veins: Causes, Symptoms, and Treatments
2022-11-08


JN-163D Electronic Blood Pressure Meter Promotion
2022-11-29
When it comes to regular blood glucose monitoring, recording your test results is very critical. Keeping a record is the most efficient way to see how dietary changes, medication changes, and exercise affect your daily glucose patterns. But when life gets busy, it's easy to get off track with your daily recording.
Under this situation, finding a way to make the blood glucose monitoring more convenient can help you stay on course. One of the best ways to do this is by choosing a glucose meter with Bluetooth connection.
Bluetooth electronic glucose meter is a common electronic glucose meter implanted in the Bluetooth chip, can realize the infinite transmission of measurement data. It can be used for the measurement of human blood glucose, self-measurement of diabetes patients and screening of diabetes. Measurement data can be uploaded to the health cloud data system to form a database, record the blood glucose parameter values, and provide users with analysis, evaluation, early warning and feedback functions. It can also connect the mobile phone, automatically synchronize blood sugar, permanently record blood sugar value, and check the blood sugar situation and change trend at any time. It can also record diet, query the gi value of food and carbon water, and control sugar more scientifically.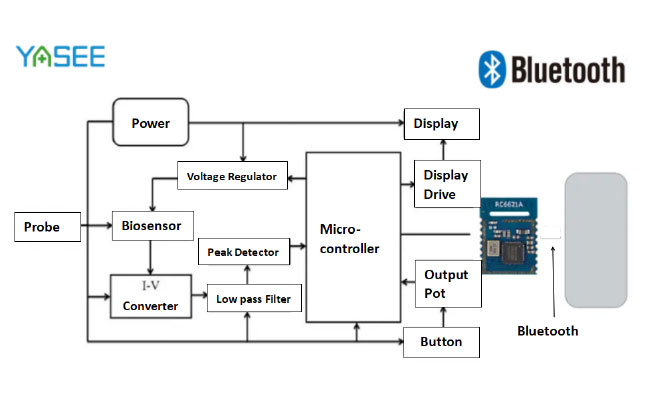 So, which glucometer has Bluetooth? Today, YASEE has many options for you on the market, including the following hot sellers.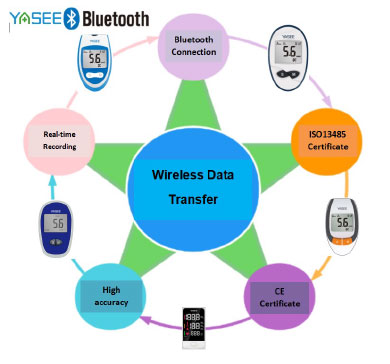 YASEE GLM-76/77/78/79 & other multi-factional Wireless blood glucose and blood pressure monitors use a secure Bluetooth connection to make tracking your glucose readings easily. Once the meter and smart device are matched, any time you check your blood sugar the meter will automatically add the reading to the app, like a digital logbook. This removes the troubles of writing down or manually entering your blood sugar into an app after you test.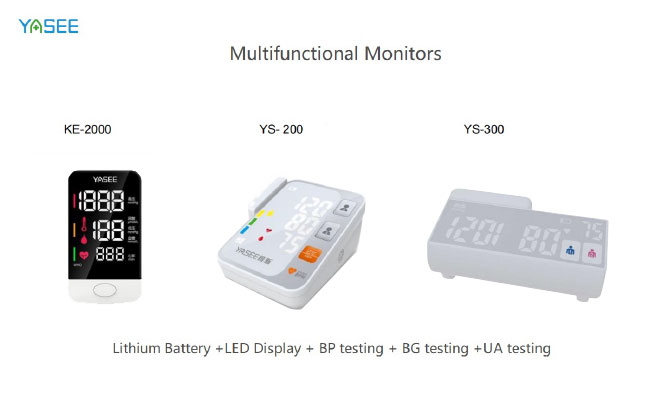 YASEE Bluetooth blood glucose meters deliver reliable readings with 99%* accuracy. Plus, it works with your own app, which is available on iOS and Android devices.

For Bluetooth connection, you can easily share your blood glucose report with the doctor and your real-time blood glucose & pressure with your family after sharing blood glucose data through mobile App. If she occasionally fails to notice a rise or fall in blood sugar due to busywork, her relatives can call to warn her — because they can also install the same app on their mobile phones and receive the corresponding alarm. In wearable devices, Bluetooth not only has excellent performance in universality and compatibility, but also is a low power consumption and low cost wireless transmission scheme.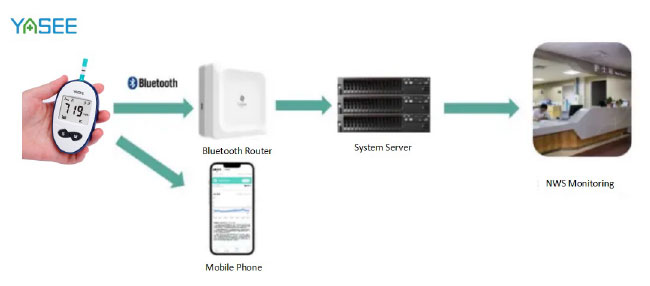 The Internet of Things based on Bluetooth low power technology has a wide range of applications for the whole vital sign monitoring system. Starting with the dynamic monitoring of blood glucose, blood pressure, urci acid etc. and using advanced Bluetooth technology, other solutions for continuous monitoring of vital signs are also being actively promoted. The system usually consists of terminal equipment, Bluetooth gateway and background software to collect vital signs data. The Bluetooth gateway is responsible for searching the physical data collected by the terminal devices within the coverage area and sending the data to the background software. With the help of this monitoring system, medical staff can immediately obtain the patient's vital signs data, such as ECG, respiratory rate, body temperature and oxygen saturation, on the software terminal without entering the ward. In case of high temperature, tachycardia, bradycardia, cardiac arrest, and low blood oxygen saturation, the software platform will automatically alarm, so as to protect the life and health of patients 24 hours a day. Greatly improve the efficiency of treatment, avoid cross infection, but also ensure the rest of patients.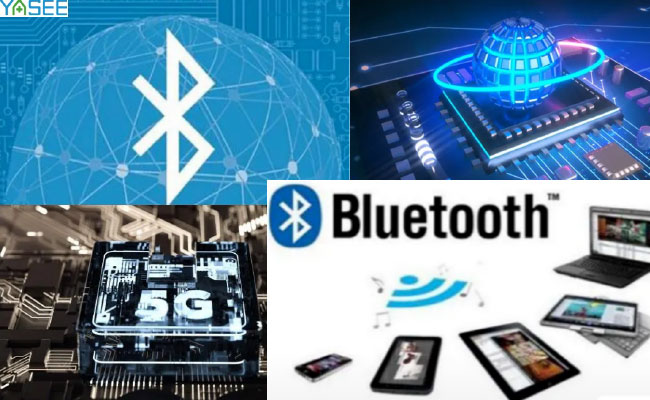 YASEE will provide patients and Healthcare professionals with high quality affordable medical products and we would be the leader on the emerging markets by offering valuable and a highly differentiated product portfolio for global users!