What is the culprit of diabetes?
2022-12-16


How to understand Pulse Oximeter Readings
2023-01-03
With the latest policy of COVID Prevention opened up in the worldwide, these three groups of people are more likely to become seriously ill when infected with the Omicron. The first is the elderly, the second is the patients with underlying diseases, and the third is those who have not been vaccinated.
Most elderly people suffer from basic diseases, and once infected with the Omicron, it will not only worsen the underlying diseases, but also easily develop into severe ones. For people with chronic diseases such as hypertension, diabetes and high uric acid, their own resistance is poor, how to better prevent the invasion of the Omicron? How do these three types of people become the first responsible person for health? To answer these questions, YASEE talks about sugar as below.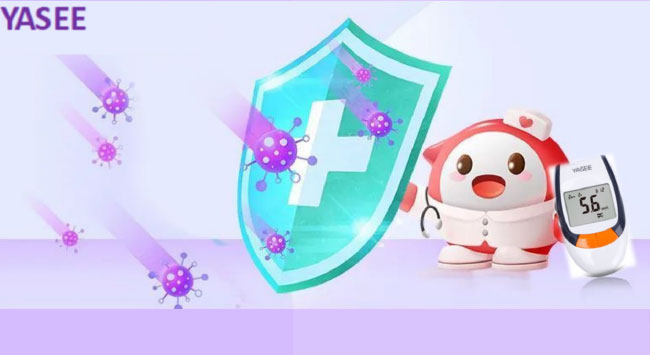 No need to panic. Get regular supplies ready!
People with diabetes should not be alarmed too much by the COVID-19/Omicron pandemic. According to the Guidelines for Home Treatment of COVID-19/Omicron patients, patients can prepare some antigen detection reagents and commonly used drugs, take good outdoor protection, wear masks, wash hands frequently, disinfected frequently, maintain certain distance for social communication, and reduce unnecessary gatherings to minimize the risk. If fever, cough and other symptoms occur, they can be treated with symptomatic treatment or oral medication. When necessary, they can contact the service staff of grassroots health institutions or consult related medical institutions through the Internet.
To fight the epidemic, the most important thing for these three people is to control the basic disease indicators well!
★ What should do for people with diabetes?
People with diabetes are "susceptible" to COVID-19/Omicron, especially elderly diabetics with a long course of disease and complications. For people with diabetes, it is very important to do a good job of self-protection and strengthen self-blood sugar health management for the prevention of COVID-19/Omicron and reduction of severe cases. Under this situation, the most important thing is to control blood sugar well. Keep the overall blood sugar level stable, strive to achieve the control of hemoglobin A1C, and reduce blood sugar fluctuations.
Reasonable Diet
Diabetic patients should pay attention to a reasonable diet, eat healthy foods according to the doctor's guidance, pay attention to the reasonable collocation of food ingredients, and increase of nutrition and the intake of high quality protein appropriately.
Regular Exercise
Chinese guidelines for diabetes prevention and treatment suggest that patients with diabetes should mainly exercise with moderate intensity and aerobic training, supplemented by muscle training. In the process of exercise, you must pay attention to safety, and at the same time, you should take into account our own illness and blood sugar status, and do what we can to avoid other discomfort.
Regular Medication
If the blood sugar of diabetic patients is relatively stable, the original medication regimen can be maintained. In case of drug shortage, the medication can be obtained through pharmacy delivery, online shopping, help from relatives and friends, etc. Insulin should not be stopped at will. In case of serious illness, it is recommended to go to the nearest hospital under the premise of self-protection.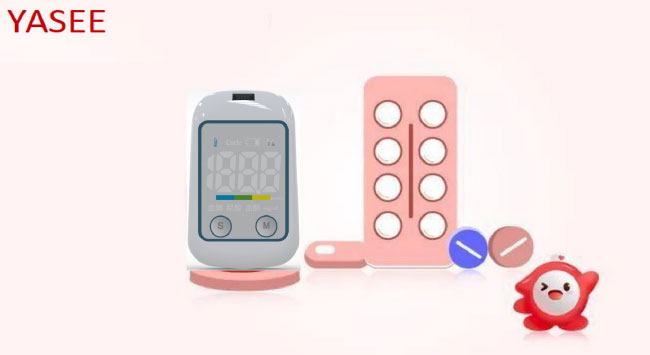 Blood Sugar Monitoring
Monitor blood sugar regularly and be clear about the risk of hypoglycemia. Once patients with diabetes have symptoms of hypoglycemia, they should check their blood sugar at any time, eat carbohydrates appropriately, adjust their medication and lifestyle, and keep their blood sugar as stable as possible. At the same time, attention should be paid to dyslipidemia, abnormal blood pressure and other metabolic abnormalities associated with diabetes. In this way, you can build up resistance and ride out the epidemic.
The sudden "relaxation" of Omicron prevention and control, combined with the cold weather, will inevitably induce some blood sugar fluctuations for diabetics who are used to fighting the epidemic at home. At this point, they need to make full use of home blood glucose meter, strengthen self-monitoring, prevention.
★ What should do for people with hypertension?
The Omicron is with high infectivity, especially for elderly patients with hypertension. They are easy to be favored by the Omicron. During the epidemic, patients with hypertension should not only avoid infection, but also ensure stable blood pressure and good cardiovascular protection. What things should they pay attention to ?
Emotional Stability
During the epidemic, patients with hypertension who stay at home for a long time will inevitably have bad emotions such as tension and panic, even excessive anxiety, and poor sleep. Maintaining adequate sleep is very beneficial to the recovery of blood pressure.
Regular Exercise
During this period, you should do some simple exercise, such as muscle stretching, walking at home and so on based on ensuring the balance of blood pressure. But strenuous activities are prohibited. You should master the method and control the amount of the activity. If the blood pressure is not well controlled, special attention should be paid to the amount of exercise at this time to avoid the occurrence of acute complications such as heart and brain.
Healthy Diet
Please stay at home and eat meals on time to avoid overeating. It is best to choose low salt, low fat, high protein and nutrient-rich food, supplement vegetables and fruits containing vitamins, as much as possible to vegetarian. Avoid alcohol, coffee or strong tea to prevent unstable blood pressure.
Prescribed Medication
Patients with high blood pressure should take medicine in strict accordance with the doctor's instructions. In special periods, if the drugs run out, you can ask your family members to buy them at the nearest drugstore instead of stopping the drugs by yourself. At the same time, blood pressure should be measured on time and record the dynamic changes of blood pressure.
In short, hypertension patients need to maintain a positive attitude, take drugs regularly, pay attention to diet regulation and keep appropriate exercise.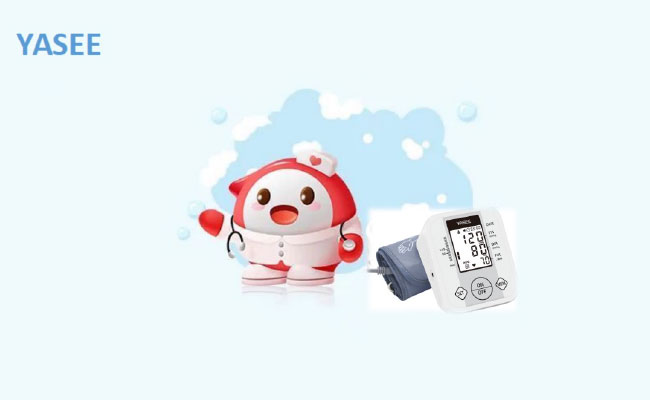 ★ What should do for people with hypertension with high uric acid?
Many patients are not convenient to go out during this time. Considering that gout attacks are related to the increase of blood uric acid, and there are also many inducements that can lead to gout attacks, it is suggested that gout patients should pay attention to the following points.
Control Diet
Avoid eating large amounts of high-purine foods at one time, including seafood, animal offal, beef and mutton, hot pot and all kinds of stock. Avoid drinking large amounts of alcohol and consuming high-sugar beverages to avoid increasing uric acid and inducing acute gout attacks. In addition, ensure adequate daily water consumption, which is conducive to the excretion of uric acid. It is recommended to drink up to 2000 ml water every day.
Keep Warm
The saturation of uric acid in the body decreases with the decrease of temperature. When the joint is cold, even if the uric acid is less than 420umol/L, it will precipitate urate crystals, which will further deposit in the joint tissues and cause gout. Therefore, joint cold is easy to induce the attack of gout, so we should pay attention to the cold and keep warm.
Avoid Joint Damage
Strenuous or improper exercise is easy to lead to joint injury, while joint injury may induce gout attack, so it is recommended that patients with high uric acid should avoid strenuous exercise and improper exercise when exercising at home.
Regular Medication
If gout patients need to take medication, please use it under the guidance of a physician, and you should monitor uric acid levels regularly. If you run out of drugs, you can buy them nearby. Do not stop taking them by yourself.
For middle-aged and elderly people with underlying diseases who have not been vaccinated, if there are no contraindications, you should be vaccinated according to national requirements after professional evaluation by doctors to prevent disease, which can reduce the infection rate of the Omicron.
YASEE has posted a number of new designs, such as multi-functional monitor D7, blood glucose and uric acid meter G91( 2-in-1), which are good choices for you!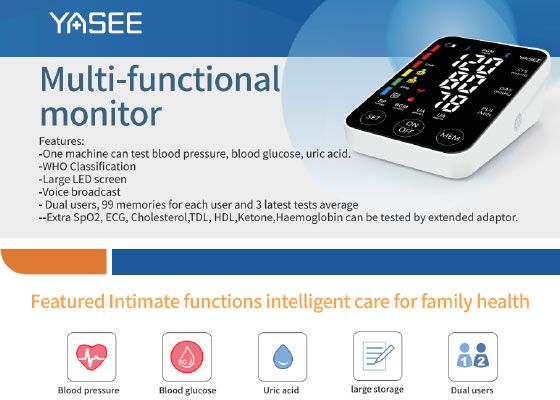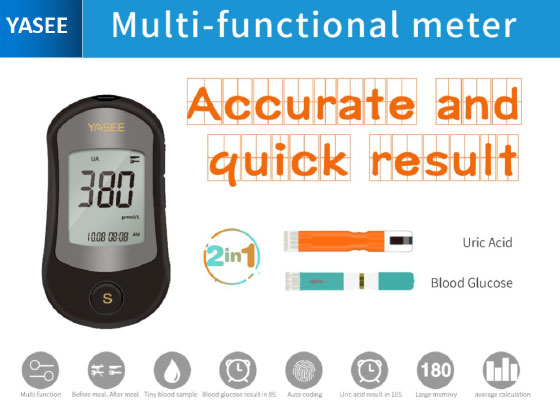 All of us should take responsibility for our own health. We should take personal protection, and monitor blood sugar, blood pressure and uric acid regularly. Be the "first responsible person" of our own health. We believe that we will win with a positive attitude!