NEW ITEM! 3 IN 1 METER!
2023-07-11


How Compression Stocking Treat Varicose Vein?
2023-07-25
For patients with varicose veins, the correct use of elastic socks is relatively simple, it is recommended that patients put on the foot cover, the elastic socks are completely gathered at the ankle, and then gradually flat up, slowly moving up along the pressure gradient, do not pull hard, do not directly pull the hose to the thigh, after wearing the foot cover out, the toes can be exposed. According to different populations, the use of methods are slightly different, can be divided into patients without surgical treatment, and patients after surgical treatment.
I Patients without surgical treatment:
1. time: It is usually recommended to wear during the day, especially in activities and work to wear varicose tension socks, which can be taken off when sleeping at night, and need not be worn 24 hours. Patients with varicose veins need to wear elastic socks for a long time, at least 2-3 months to start, long-term wear may be better;
2. length: if the patient only has varicose veins in the calf, the general length can be worn to the calf, if the thigh also has varicose veins, the length of the elastic socks needs to reach the thigh;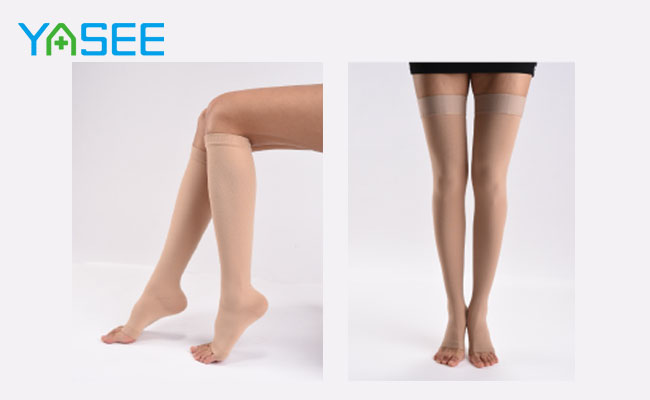 3. pressure: if you wear elastic socks for treatment, the pressure is generally at least two, in order to play a certain role in the treatment of oppression. The pressure of primary treatment belongs to the health care type, and the effect of primary pressure elastic socks on the treatment of varicose veins is poor for people who have already developed varicose veins.
Class I : 18-21mmhg
Class II : 23-32mmhg
II Patients after surgical treatment:
After surgery, patients wear elastic socks for a period of time according to the doctor's advice, the length is consistent with the above method, in order to ensure the treatment effect, the pressure should also be basically at or above the second level, and the specific situation needs to be used under the guidance of a doctor. If the situation is not serious, the range of varicose veins is not wide, generally wear 1-3 months, then there is no need to wear long-term, if the patient has obvious varicose veins before surgery, and the range of varicose veins is wide, the calf appears pigmentation, blackness, eczema, ulcers, ruptures and other manifestations, generally need to wear 3-6 months or even longer after surgery. Long-term wearing of varicose stockings may play a role in the recovery of such patients and improve venous return.
Wear stretch socks pay attention to avoid toenails too long, regular local cleaning, some stretch socks need to be replaced once a year. In addition, no matter what kind of people, after wearing elastic socks, there are abnormal conditions such as lower extremity pain and difficulty walking, it is recommended to seek medical treatment in time to prevent serious consequences.